There are times in one's life when the unexpected happens such as the death of a young husband and father.  A widow in her forties usually has many years ahead.
Some of the widows I have met are mothers and grandmothers who have joined Catholic monasteries around the United States after the deaths of their husbands.
One such woman is Janet (not her real name) whose husband died suddenly.  She was left to raise her last child who was still in high school.  Janet had to go back to work.  The first few years following her husband's death were a time of transition.  Janet adjusted to being single again and discerned what she wanted to do in the near future.
Janet did not want life to bring things to her.  She wanted to have a say in how she would live her life.  Janet was in her late forties with a possible thirty years or more of life ahead of her. Janet decided she wanted to do something meaningful for others.
In the Book of Ruth in the Old Testament, Naomi's husband and two sons die leaving her and two daughters-in-law, Orpah and Ruth, alone.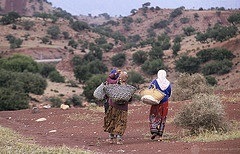 After the death of her sons, Naomi starts her journey back to Bethlehem because she hears the Lord has given his people food again after the famine.  Naomi and her daughters-in-law, Ruth and Orpah, start to travel back to Naomi's homeland.
On the road, Naomi tells her daughters-in-law to go back home, back to their mother's house. They all cried.  Then "Orpah kissed her mother-in-law, but Ruth clung to her" (Ruth1:14).
Naomi says, "See, your sister-in-law has gone back to her people and to her gods; return after your sister-in-law."  But Ruth said, "Do not press me to leave you or to turn back from following you! Where you go, I will go; where you lodge, I will lodge; your people shall be my people, your God my God.  Where you die, I will die-there will I be buried . . . When Naomi saw that she [Ruth] was determined to go with her, she said no more to her" (Ruth 16-18).
This is a remarkable statement. Ruth speaks from her heart, knowing with passion that she wants to leave her land, her people, and her gods to follow Noami to her land, her people, and her God.
Could it be that Ruth's loss of her husband awakens her to look beyond the normal ways of being a Moabite? Grief has away of opening up empty spaces for new vision-new plans.  Maybe Naomi had spoken to Ruth about her God and her people.  Maybe Naomi's words sparked a desire to risk going with Naomi out into the unknown of a new land, people, and religion.
Ruth, by traveling with Naomi back to her homeland, had time to put together words from her heart: "Where you go, I will go . . .  your people shall be my people, you God my God." (Ruth 1:16-18)  Ruth used her intuition and what she knew about her mother-in-law to trust in Naomi's leadership for a new life.
Janet had several years of being on her own raising her last child through high school and into college.  Since Don's death, she had spent more time reading, going to women's retreats, and attending church.
Early childhood dreams about being a Catholic sister continued to surface.  Janet began to explore this way of life by visiting a number of convents and monasteries.  At one of them in particular she felt more at home with the sisters' work and communal prayer.  She joined them and has been a sister for many years now.
Grief has a way of cutting deep, of getting down to what we really want to do with the rest of our lives.  Grief has a way of spotlighting what we don't want in life as well as what we do want to bring into our lives.
After the death of her husband and when her last child was independent, Janet wanted to belong to a group that had a mission and a purpose that was larger than her life.  She found a religious community of women in which she could seek God through prayer and living in community life while working with the poor.
Ruth wanted something more than being a resident of Moab.  Ruth trusted herself to follow Naomi to her people. There she would find her heart's desires through the journey with Naomi.
Both Janet and Ruth had huge personal losses.  Following tragedy, hidden desires surfaced and bloomed like spring flowers after the long, dark, cold winter.
Listen to your heart after a loss.  A loss can be the catalyst to attaining one's deepest longings and desires.
3 Ways to Making a New Beginning After a Loss
Some people explore what they think they want like Janet. Others, like Ruth, let life lead them and see what unfolds along the journey.
Take some personal quiet time.  See if you can notice an inner shift weeks or months after a loss (e.g. of a loved one or anther loss such as a career, job, home, position, or finances) that helps you feel and know more of your deepest longings.  For example: Janet noticed an attraction to becoming a Catholic sister in a monastery.
Make a list of what has died or is dying in your life.  For example: things you are losing interest in whether it is certain activities or people.
Make a list of what is returning or becoming more important to you.
Writing down a vivid description of what is dying in your life and what is becoming more important to you can give you a glimpse of your new future world.  This exploration phase, finding what your long and desire, can lead to the next part of your future journey.
I can imagine Ruth taking Naomi as a role model.  Ruth watches Naomi.  Naomi lost her husband and two sons in the strange land of Moab.  Naomi has no reason to stay around Moab especially after receiving the news that God has provided food now in Bethlehem.
Naomi desires food, but more important desires also rise in her.  She awakens to dreaming about old friendships, extended family, familiar people, land, customs, and her God.  Naomi sets out homeward with Ruth.
Together they change themselves and shape the history of Israel.